Cybersecurity Services / Ransomware
Cybersecurity is the protection of Internet-connected systems, including hardware, software and data, from cyberattacks.
Why Choose NWCR for Cybersecurity Services?
At NWCR we build systems that protect against unauthorized access to data centers and other computerized systems. Information security, which is designed to maintain the confidentiality, integrity and availability of data, is a subset of cybersecurity. We run audits to make sure you are covered and then build a plan where you're not.
Elements of Cybersecurity
Ensuring cybersecurity requires the coordination of efforts throughout an information system, which includes:
Email security
Infrastructure security
Network security
Zero Day Threat Solution
Disaster recovery/business continuity planning
Operational security
End-user education
We take the HOPE out of Cybersecurity and replace it with CONFIDENCE.
KICK HACKERS TO THE CURB.
We're ready for ANYTHING!
One of the most challenging aspects of cybersecurity is the constantly evolving nature of security risks. The traditional approach has been to focus resources on crucial system components and protect against the biggest known threats, which meant leaving components undefended and not protecting systems against less dangerous risks. This is not the best option.
The National Institute of Standards and Technology (NIST), for example, recently issued updated guidelines in its risk assessment framework that recommend a shift toward continuous monitoring and real-time assessments. We work with these solutions every day and can guide you through this very important solutions process. At NWCR, we know what works, what doesn't work and what solution fits within your budget. Would you rather spend weeks evaluating, scoring solutions and then hope you get the choice right, or would you rather just give us call? We can work with you to pick the right solution for your environment, no guesswork. Take the HOPE out of your Cybersecurity.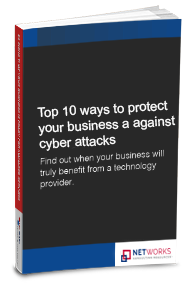 Do you know how to protect your business from Cyber attacks? Find out